The Simon Family Series Book 1
Regular price
Sale price
$6.99 USD
Unit price
per
Sale
Sold out
HOW TO GET YOUR E-BOOK

It's as easy as 1-2-3

1. Complete your checkout. Don't worry is 100% safe and secure.

2. Open your email from bookfunnel, it is sent instantly after purchase.

3. Send the e-book to your preferred device and enjoy!

Need help? It's one email away.





READ CHAPTER 1 OF BACK TO BEFORE

Mothers of teenage boys never sleep well, and Holly was no different. But that night in May, she thought she had hit the single mother jackpot. The coincidence of both Chance and Dillon having sleepovers at a friend's house on the same night had never happened before. She was giddy at the thought of having a night completely to herself.

Finally, the stars have aligned for me. It's about time!

The prospect of a nice warm bath and opening a fresh box of red wine without worrying about the ever-watchful eyes of her two sons, who had been deeply affected by her ex-husband's alcoholism, seemed like a dream. She savored it, not knowing it was the last time in a long time she would feel completely peaceful and free.

She piled her coffee-colored hair that was getting its first streaks of white cream on her head, slipped off her clothes, and dipped her mom bod into the hot water. A few stretch marks like tiger claw marks streaked down her slightly too wide hips, and there was a subtle softening around her tummy. Evidence of the two pregnancies her body had sustained left their marks, but she worked out and tried to stay in decent shape. Holly was down to the last fifteen pounds, knowing that someday, eventually, she would want to get back out there and date. Just not now. Her life was too full and over-scheduled as it was; to add a man to the mix wasn't even on her radar. She'd take a solid eight hours of sleep over a roll in the hay any day.

Brown eyes closed, she sipped the boxed Merlot slowly, letting it roll on her tongue and coat the back of her throat. The Epsom salts worked their magnesium magic to loosen the ever-present tension in her shoulders. She forgot about the calls she would have to make to two of her students' parents. Since moving to the most affluent neighborhood just outside of Indianapolis a little over a year ago, she thought things would be better, that they would be easier. She had told herself that serving students that weren't as economically disadvantaged wouldn't be as stressful. Turns out, it was actually more stressful, but in weird ways. First-grade parents already vying for college acceptance tracks held 'emergency' conferences with her to discuss why she wasn't including Chinese Mandarin in her lesson plan. They were too intense with too much time on their hands, and their helicopter parenting style had been a huge adjustment.

Later that night, still warmed from the bath and fuzzy from the bottle of wine, she read part of a romance novel until her eyes got heavy. If you asked her, she could never tell you which one, since they were all the same. Happily ever after squeezed into under three hundred pages with a colorful cover that looked pretty on her nightstand. The novels were about as far from real life as it gets, but it was her only frivolous escape and fed her hopeless romantic tendencies. She fluffed the pile of pillows, stretched her strong legs, and relaxed into her down comforter. Sighing contentedly, it was the one splurge she had allowed herself when she moved into her new townhouse, and she smiled as she drifted off. Her dog, Murph, a rescued ball of pure white fluffiness settled into her knee pits and began to snore. Completely carefree and relaxed, she fell into a hard and deep sleep. Her cell phone, a sentinel, stood guard on her bedside table, just in case her boys needed her in the middle of the night.

The nightmare began with a text message sent at two a.m. from Chance's best friend. Her ever-mothering hyper-vigilant ears heard the delicate text notification, forcing her to pop up and rub her eyes. A slight headache pinched her head from the wine. She grabbed the phone, held it at arm's length, and squinted so she could make out the words. She was on the brink of needing reading glasses, but she just wasn't ready or willing to admit that yet. On her to-do list, things she needed were always buried underneath the needs of the kids.

Blake: Is Chance ok? I am scared.

She felt a chill go through her. On high alert, she immediately responded. Fear took up residence in her throat, a thick lump that choked off her air supply and made it hard to breathe.

Holly: What? He's supposed to be with you.

The incoming text bubble blinked and blinked, adding more tension.
Where could he possibly be at two o'clock in the morning?

Blake: He's not here. Heard he was at Triangle Park with Angel.

Angel? Who the hell was that?

Holly racked her brain, searching for that name, and came up blank. She ran to her closet and threw on a sweatshirt over the old running t-shirt she had worn to bed. Grabbing the keys from the lavender-colored dish, she raced to the car, not even stopping to put on a bra. Pure panic, sharp and hot coursed through her, and her heart hammered as she drove to the park in complete darkness. She made two wrong turns before she got there. New Hope wasn't even that big, and she was slightly embarrassed she still depended on GPS to navigate to places. A reliable voice guiding her turn by turn was how she preferred to maneuver through life instead of finding her own route on a map.

"Dammit," she cursed. Mad at herself for the delay, she hit her hands against the steering wheel. Slamming her foot back on the gas, she turned the final corner, and the red flashing lights made her stomach drop to her feet. Parking the minivan, she ran past a merry-go-round toward the red lights, her breathing shallow as beads of sweat formed on her forehead. She slipped on the wet and muddy grass in her purple crocs, twinging a muscle in her back. Her hand circled to the spot, rubbing it as she started to run faster

An ambulance. A stretcher. A body lying on it. Pale, lifeless, small.

She let out a yelp, and her hand flew up to her mouth to cover it. Holly froze in terror. Her hand itched to touch him, to smooth the long wavy brown hair away from his brow. She ached to brush her thumb across the cleft in his chin he hated, but she adored. It was her favorite place to kiss when he was an infant, and the first day after they brought him home from the hospital, she rubbed that soft little dent so much, she thought a blister might form. He was so pale and so still, he looked like he was sleeping.

I always loved to watch him sleep, especially when he was a baby. His face was always so sweet and tender, wrapped up in his crib. Safe.

She clutched the metal bar of the stretcher as the EMT worked on her son, monitoring his heartbeat and hooking him up to monitors. An oxygen mask was placed over his mouth and nose. A smear of dirt on his jeans and those stupid Osiris shoes, bright ass green with the fat tongues that had rubbed blisters on his shins for weeks. Shoes that she had used to bribe him to wear the first days at his new high school. Footwear was suddenly so important, so critical that it leaked onto his ten-year-old brother, Dillon, who made the same demands and chose an equally offensive color. They were shoes she really couldn't afford but were one way she could assuage the guilt she still felt from the divorce.

"Ma'am, please stand back," the ambulance attendant said, pulling her focus back to the stretcher.

"This is my son!" Holly cried her voice tense and shrill. "What happened?"

"Appears to be an overdose. We found two Xanax bars in his pocket."

"Xanax?" Holly said, dumbfounded.

How does a fifteen-year-old get his hands on Xanax?

"His breathing is stabilized. His vitals are good. But with his age and weight and not knowing how much he ingested, we're going to transfer him to the hospital for observation."

"Okay," Holly said weakly.

"You're welcome to ride with us, but I'd recommend you follow in your vehicle instead."

"Yes, of course. I'll follow."

She climbed back into her old but reliable minivan recognizing that her night of freedom had instantly become dark and nightmarish. The panic finally subsided enough for the first tears to surface. Hot, warm tears fell down her freckled cheeks, running down the tracks of her laugh lines and spilling onto her hand. Her chest heaved as she turned on the headlights and followed the ambulance to the hospital.

What she didn't know was that nothing would ever be the same. That this was the beginning of her slow descent into hell. That she was going to wish that she could go back to before this moment. Back to before this night, when everything she thought she knew and everything she believed in had unraveled. The ugly truths hidden in lies and misdeeds would be soon exposed. A truth so painful that she would never recover from it. She would never be the same.

Before she was a newly divorced single mother. A beloved first-grade teacher starting over in a new town. Before, she was filled with hope; the name was half the silly reason she decided to move to New Hope in the first place. An affluent town with beautiful neighborhoods and expensive houses with planned parks and open green spaces. Filled with designer dogs with curly hair that got to exercise with other doodle dogs in poshly appointed dog parks. New Hope was swimming with privilege and opportunities. At the time, she had told herself she would be giving her kids a much better life, that they would have extraordinary opportunities in music and art, things both her kids excelled at. Creative classes that were first on the chopping block at their old school when the budgets needed to be balanced. She was doing this for them. She was sacrificing for them.

They didn't get it yet, but when they graduated, when they went on to live productive lives and be successful, then she would get her thank you. Then she would get their appreciation for her sacrifice. She knew what was best for them. That was another ugly lie that would soon be exposed because it turns out, she really didn't know at all.
A New Hope: A New Nightmare

Nothing is as it seems in New Hope, Indiana—the land of curly-haired designer dogs, bunco nights, and impeccably manicured lawns. Where the good kids from good families live. Except...it has a dark side.

Wanting the good life for her sons, Holly Simon stretched to afford a home in picture-perfect suburbia. Her dream is destroyed the night her son is found unresponsive, but alive after an overdose on prescription drugs in the neighborhood park.

Forced to navigate the terrifying gauntlet of addiction and treatment, she uncovers a maze of secrets and lies that rocks her to her core. Can she find a way through before her heart shatters again? How far will she have to go to save her son? 

Back to Before explores one woman's herculean effort to rebuild and heal herself and those she loves most.
Press play to listen to the retail audio sample below.
Approximately 8 1/2 hours in length. When you buy direct, you have the option to stream on any device using the cloud player or listen using the Bookfunnel App. This title is also available on Audible and all other Audiobook sellers.

Genre: Women's Contemporary Fiction
For fans of Emily Giffin, Jennifer Weiner, and Barbara O'Neal.
FIND BACK TO BEFORE ON OTHER RETAILERS WORLDWIDE

Select Your Favorite Worldwide Bookseller HERE

Available at:
Barnes and Noble
Amazon (US and International)
Apple Books
Kobo
Kobo Plus
Google Play Books
Hoopla
Tolino
Biblotheca
Baker & Taylor
Odilo
Vivlio
Borrow Box
Smashwords
Palace Marketplace
Gardners

Some Titles are available in Audio at ACX and many other audio companies worldwide. Or put in a patron request at your local library.
View full details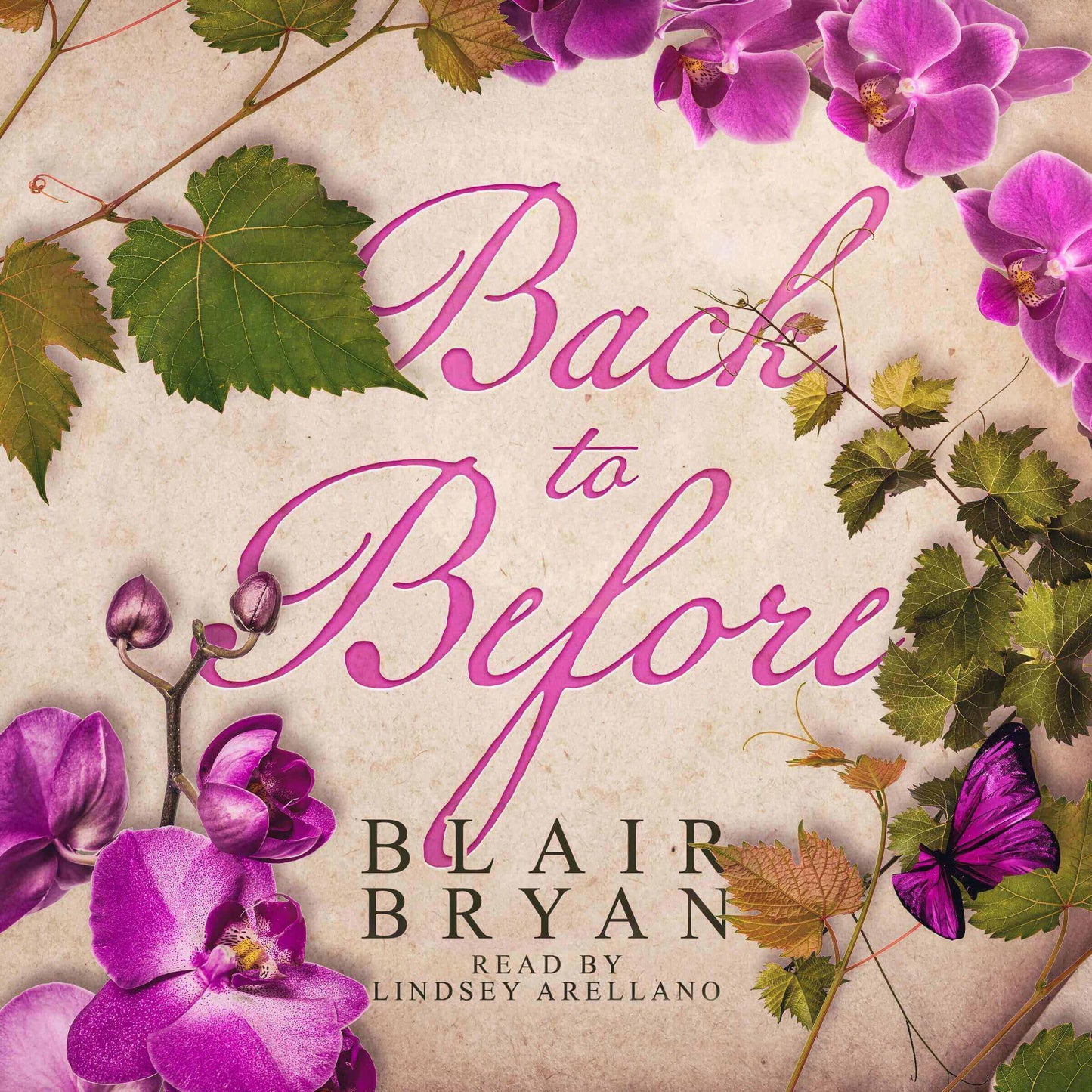 Excellent absorbing book. A joy to read.
This Deserves 6 Stars!!
This is a 6 star. Single mom moves to a rich area to be a teacher at a charter school. She has 2 sons, 10 and 15. But the 15 year old got into drugs and what an awful year they had.
Character development is on point
I read this book cover to cover. Sleep is over rated! I needed to know what happened to Chance because I felt that Holly was a friend. The back stories were fabulously good and the characters were all believable. On to part 2!
Speaks to any Parent
I wish I could accurately put into words all my feelings about this book. But I'm not nearly the writer Blair Bryan is. Her attention to fine details will have you feeling like you're right there in her shoes. Back To Before is a beautifully written story about teenage addiction. It is a roller coaster ride that you just can't put down. Unfortunately, this is a situation we are seeing more and more in our society. Whether you have personally dealt with addiction in your family or other sorts of struggles as a parent, the revelations the main character comes to in the final paragraphs will speak to anyone. I can't wait for Blair Bryan's next book to be released!
Great Storyline
I highly recommend this book - there is so much for anyone and everyone to take away! The characters were real, down to earth, family next door people who will win your heart.
How to Get Your E-Books. As Easy as 1-2-3
1. Complete Your Checkout

2. Open Your Email from Bookfunnel

The email is sent instantly after purchase. Be sure to check spam or junk if you don't see it.

3. Send To Your Preferred Device & Enjoy!

Step-by-step instructions are included, and if you need help, it's one email away.

Need Help? Contact Bookfunnel
More Uplifting and Heartwarming Women's Fiction
For fans of Sherryl Woods, Barbara O'Neal, Mary Kay Andrews, Jennifer Weiner, Emily Giffin, Pamela Kelley, Mary Ellen Taylor, Fredrik Backman and Jennifer Weiner Uplifting fiction featuring lovable, quirky characters over 40 in the prime of midlife.