Regular price
$34.99 USD
Sale price
$27.99 USD
Unit price
per
Sale
Sold out
BOOK DESCRIPTIONS

Up in the Middle of Nowhere

Inspired by True Events

One mother. One daughter. One adventure of a lifetime that will change their relationship forever.

When her troubled teenage daughter, Nova, is hell-bent on self-destruction, Tessa Donahue makes a desperate bid to save their future. 

Together they will leave behind the familiar and step into a world of whimsical wonder. Nestled amidst the lush greenery of the Great Smoky Mountains, four unique treehouses offer a breathtaking escape as they embark on a journey filled with self-discovery and reconnection. 

It will force Tessa and Nova to face their demons and fight for understanding as they realize this may be the last chance to repair their relationship before Nova graduates from high school.

This poignant and heartwarming tale of a mother's unconditional love and a child's fight for independence will remind you that life's greatest adventures are often found in the most unexpected places. 

Back to Before

A New Hope: A New Nightmare

Nothing is as it seems in New Hope, Indiana—the land of curly-haired designer dogs, bunco nights, and impeccably manicured lawns. Where the good kids from good families live. Except...it has a dark side.

Wanting the good life for her sons, Holly Simon stretched to afford a home in picture-perfect suburbia. Her dream is destroyed the night her son is found unresponsive, but alive after an overdose on prescription drugs in the neighborhood park.

Forced to navigate the terrifying gauntlet of addiction and treatment, she uncovers a maze of secrets and lies that rocks her to her core. Can she find a way through before her heart shatters again? How far will she have to go to save her son? 

Back to Before explores one woman's herculean effort to rebuild and heal herself and those she loves most.

Better than Before

Starting over isn't as easy as it sounds.

To heal herself and her sons, Holly Simon made the radical decision to move thirteen hundred miles away to begin a brand new life as an Airbnb host just outside Yellowstone National Park.

Forced to fake it until she makes it, she soon realizes that her old problems have a way of resurfacing. No matter how far she goes to outrun them. 

Self-doubts and paralyzing fears begin to creep back in as Holly works to establish her new life in a small town overwhelmed by the challenges of being a single mother living in the wild west. 

The events of one snowy night send her life on a fresh trajectory she never saw coming and give her a glimpse of the happily ever after she'd long stopped believing in. Will Holly finally settle in and grab the happiness she's always dreamed of, or will she let her insecurities stand in the way? 

This book is the sequel to "Back to Before'' and is the final installment of  "The Simon Family Series."

When Wren Came Out

How do you accept your child's authentic identity when it goes against everything you've always believed in?

Traditional Army wife, Theresa Churchill, spent years shuffling her family from post to post. She was relieved when her husband retired and they finally put down roots in a picket-fence and apple pie Minnesota town. 

Theresa is thrilled to see her daughter, Wren, settling in and making friends, but, gradually, she begins to worry that Wren's feelings for her classmate go beyond friendship. 

An undeniable transformation is taking place that Theresa cannot ignore, forcing her to grapple with her own convictions and demanding that she navigate the widening divide between her conservative husband and queer child, threatening to tear her family apart piece by piece.

Theresa must embark on a journey from fear and confusion to unconditional love acceptance, to find the courage she needs to give her child the freedom to love everyone needs and deserves. 

The Funologist

When a bipolar stand-up comic wins the lottery, anything can happen. 

Freddie Angel is a middle-aged lovable disaster, living in his mother's basement and hustling for stage time at a run-down comedy club. He's invisible to women until Lady Luck smiles and hands him a winning lottery ticket.

Everyone has an opinion on what he should do with his sudden windfall, especially the voices in his head. If anyone knows what it's like to be an underdog, it's Freddie. Now he has a chance to transform his life and help other people too. But as he embarks on his unorthodox philanthropic mission, Freddie soon discovers the pitfalls of instant wealth and pseudo-celebrity.

An outrageous homage to Pay it Forward with a hint of Last Comic Standing, the Funologist is an irreverent glimpse into a brilliant mind of mania and generosity.









HOW TO GET YOUR E-BOOK

It's as easy as 1-2-3

1. Complete your checkout. Don't worry is 100% safe and secure.

2. Open your email from bookfunnel, it is sent instantly after purchase.

3. Send the e-book to your preferred device and enjoy!

Need help? It's one email away.





Do you love heartwarming and uplifting stories about motherhood featuring lovable characters overcoming life's challenges? Get 5 full length novels guaranteed to give you all the feels.
View full details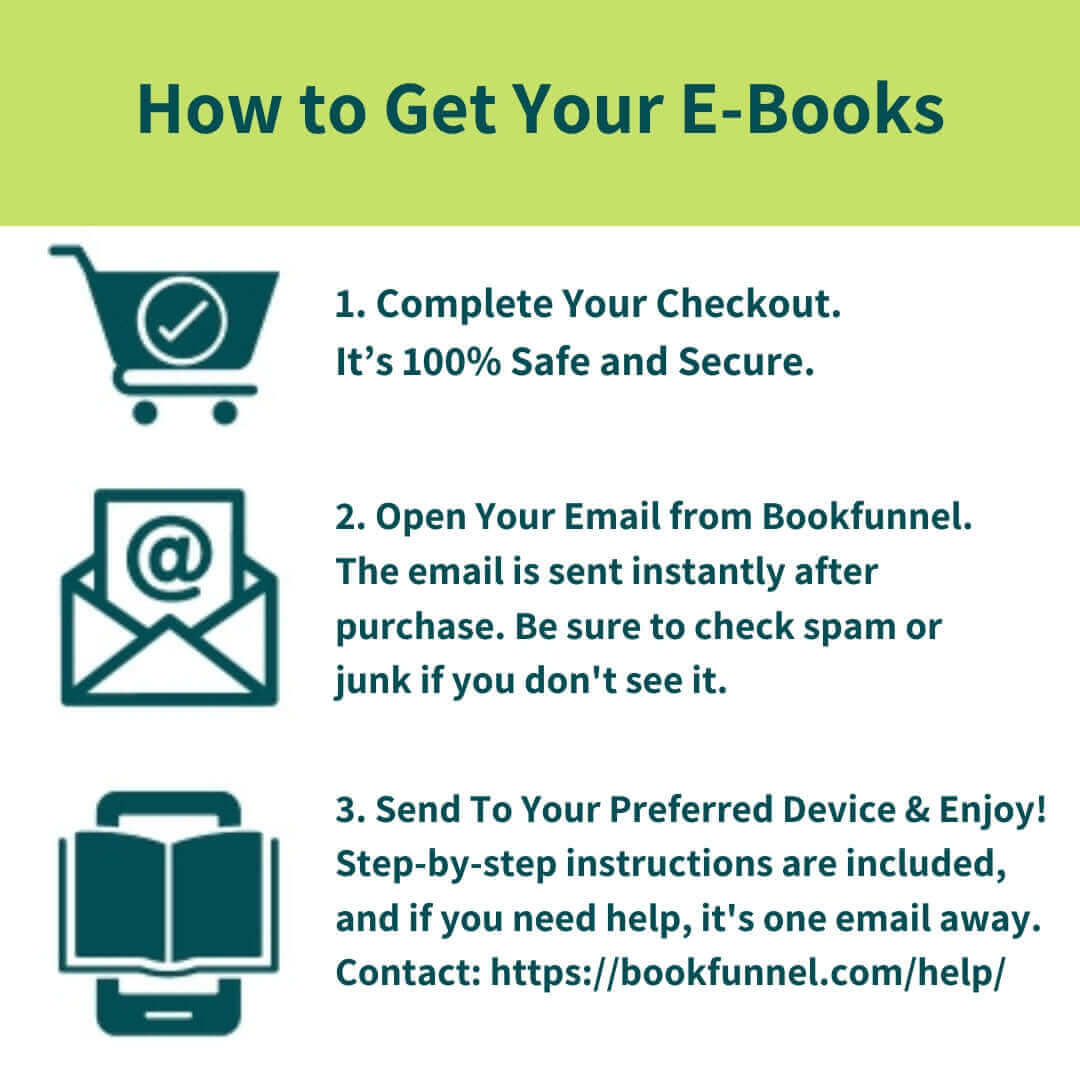 How to Get Your E-Books. As Easy as 1-2-3
1. Complete Your Checkout

2. Open Your Email from Bookfunnel

The email is sent instantly after purchase. Be sure to check spam or junk if you don't see it.

3. Send To Your Preferred Device & Enjoy!

Step-by-step instructions are included, and if you need help, it's one email away.

Need Help? Contact Bookfunnel
Check out this New Paranormal Women's Fiction Series
Regular price

From $4.99 USD

Regular price

Sale price

From $4.99 USD

Unit price

per

Regular price

From $6.99 USD

Regular price

Sale price

From $6.99 USD

Unit price

per

Regular price

From $13.99 USD

Regular price

$17.97 USD

Sale price

From $13.99 USD

Unit price

per